Woodland Houses
High Street, Shepreth
The designs of the woodland houses in the South Cambridgeshire village of Shepreth are directly attributed to their secluded landscaped setting. The two plots in the former grounds of an existing dwelling are part of the local conservation area and heavily sheltered by established trees. The orientation of both houses, one four-bedroom and the other six-bedroom, have been laid out to benefit from the passive shading of dappled summer sunlight, and low winter sun angles beneath the tree canopies.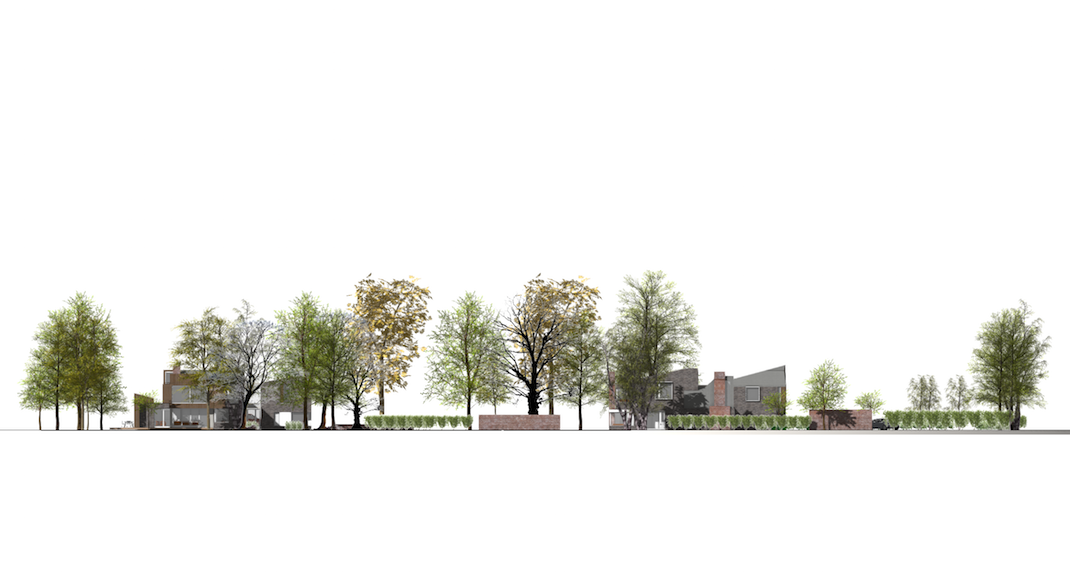 Set back from the road and roughly equidistant from existing properties, Plot 1 takes the form of a T-shape forming a semi-private and a private side to its plot. The main mass of the house sits behind a front gable resembling the built form of Meadow Thatch (a nearby listed dwelling). A connected single storey wing bisects the plot southward to form two distinct garden spaces either side.

At the western end of the site a clearing made within the existing woodland has been carefully configured to accommodate the second larger dwelling. Similar to Plot 1, a semi-private and private garden space is placed either side of the dwelling to take advantage of views and sunlight associated with a dominant westerly orientation to take advantage of open landscape beyond. A series of landscaped garden spaces relate the existing and proposed houses together in sometimes unexpected ways, carefully curating the visibility and privacy of the spaces between them.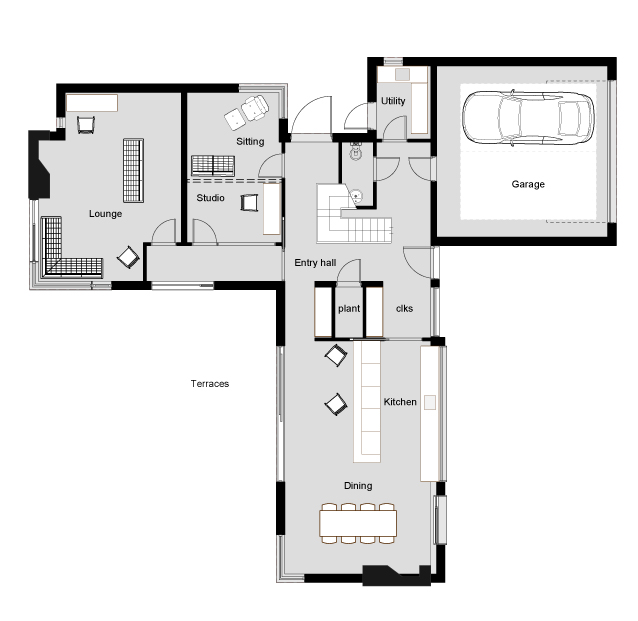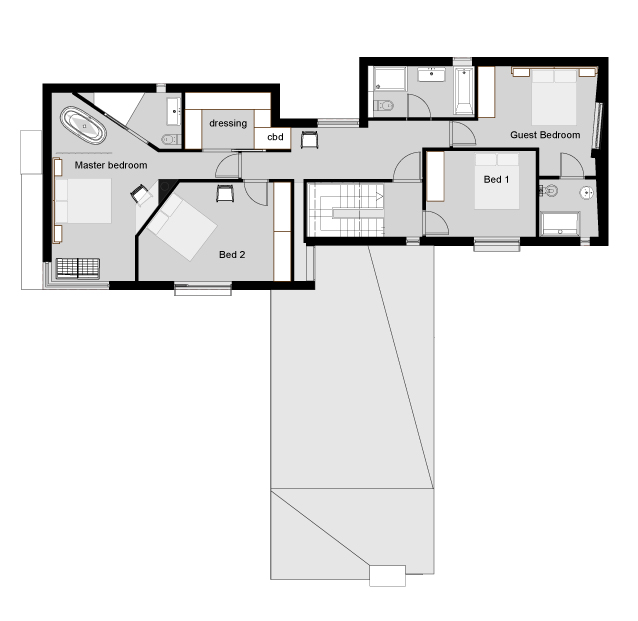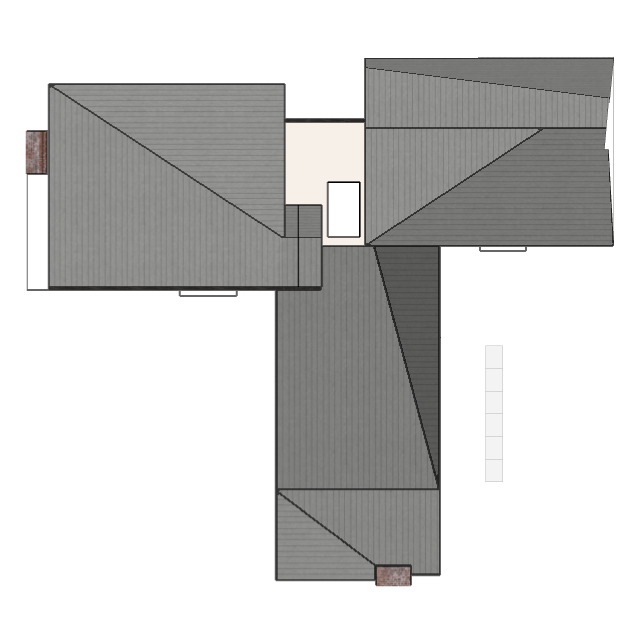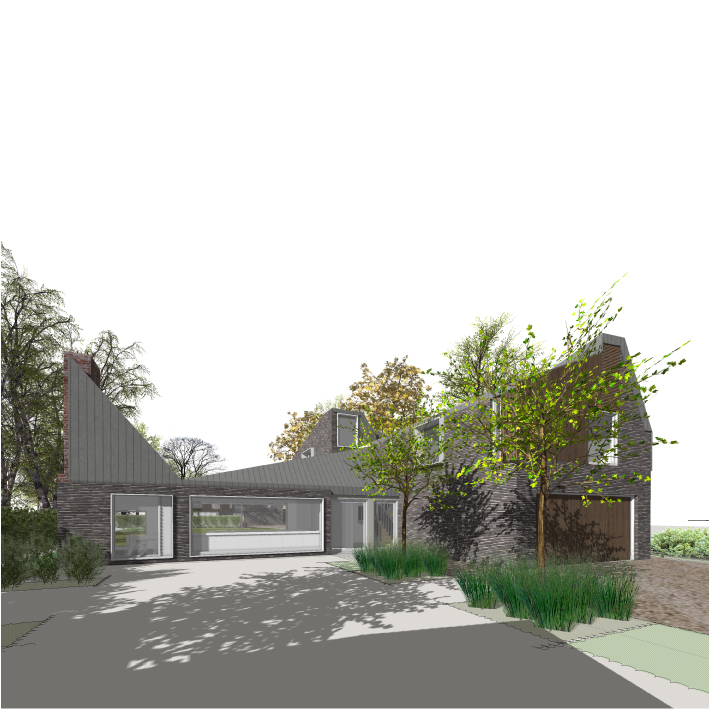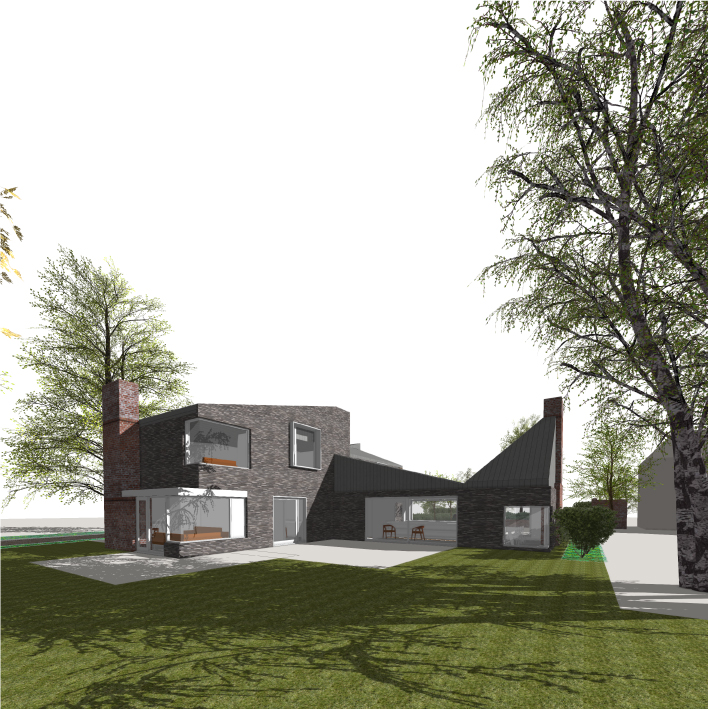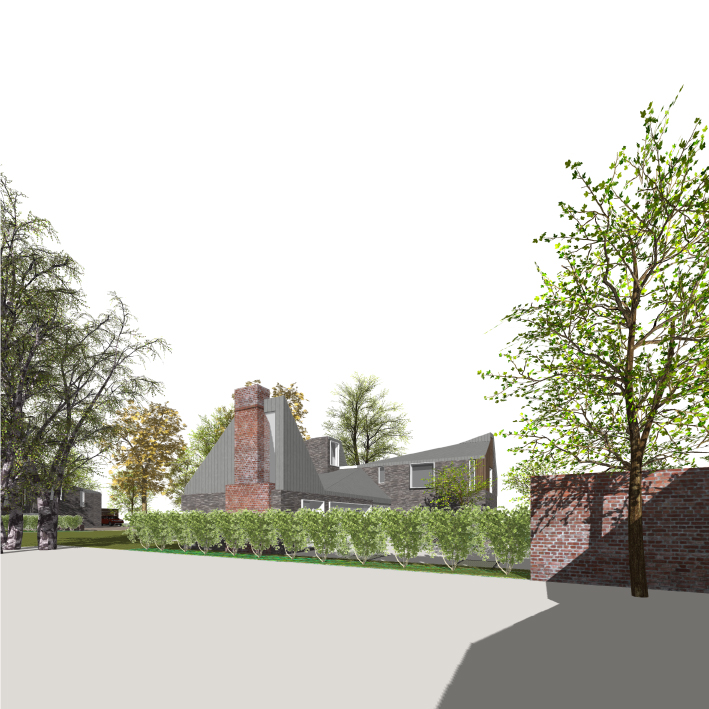 The new houses carefully juxtapose a contemporary vernacular of brick walls and striking elevations with shallow rooflines and materials to evoke familiar silhouettes found in the the surrounding setting. Smooth cut brickwork of Victorian buildings found locally are echoed by the new buildings, which use brickwork punctuated by large openings. These are recessed and set in a relief of contrasting off-white cladding, or simply punctuated to form a striking asymmetric balance. The metal roofs, contrasting red brick chimneys, simple detailing, and double boarded treated timber have all been chosen to resonate with traditional construction methods found locally.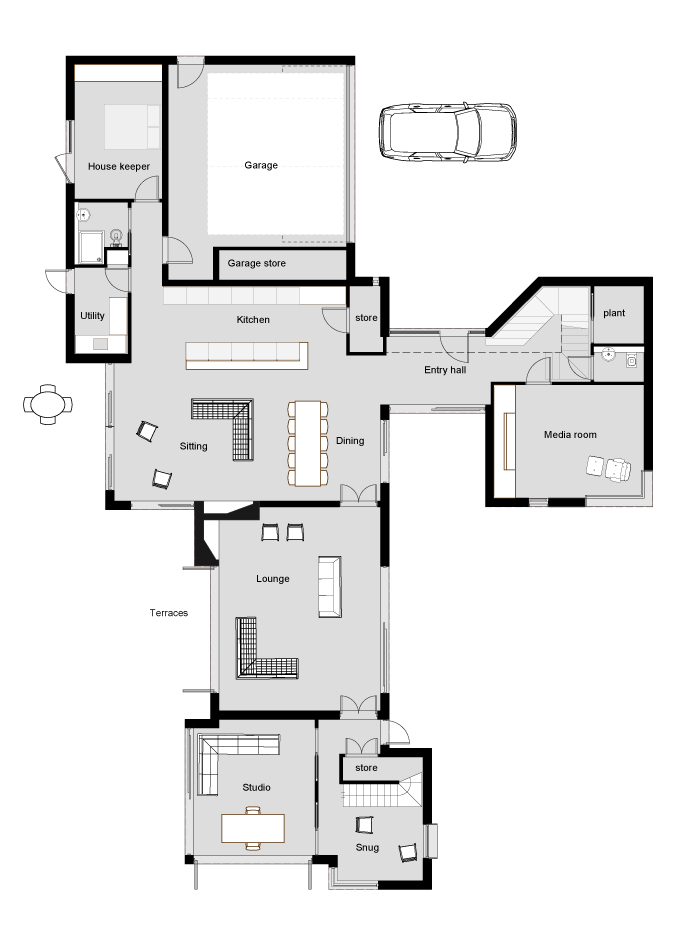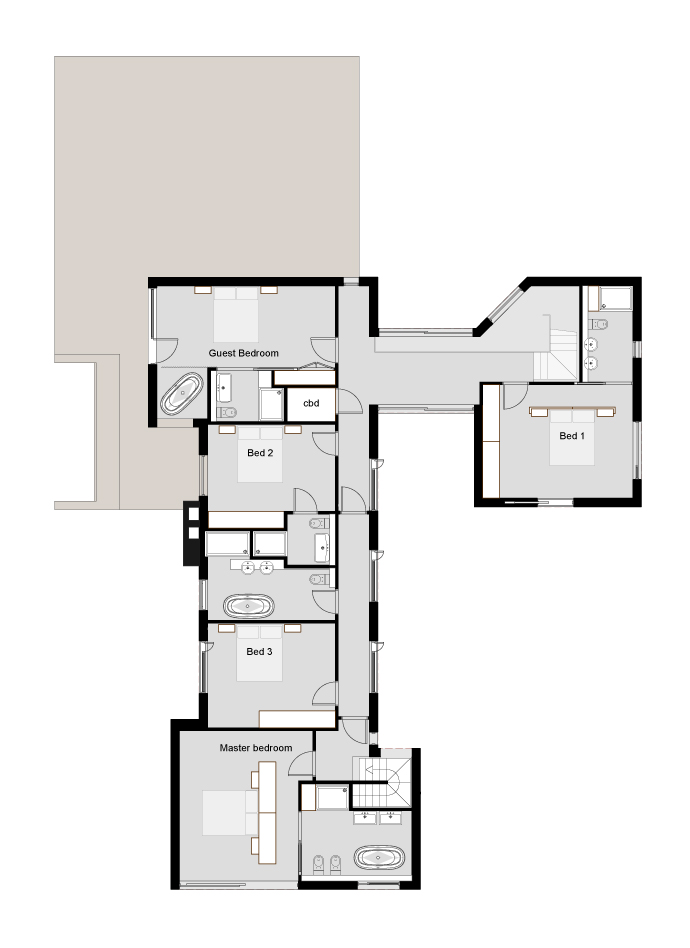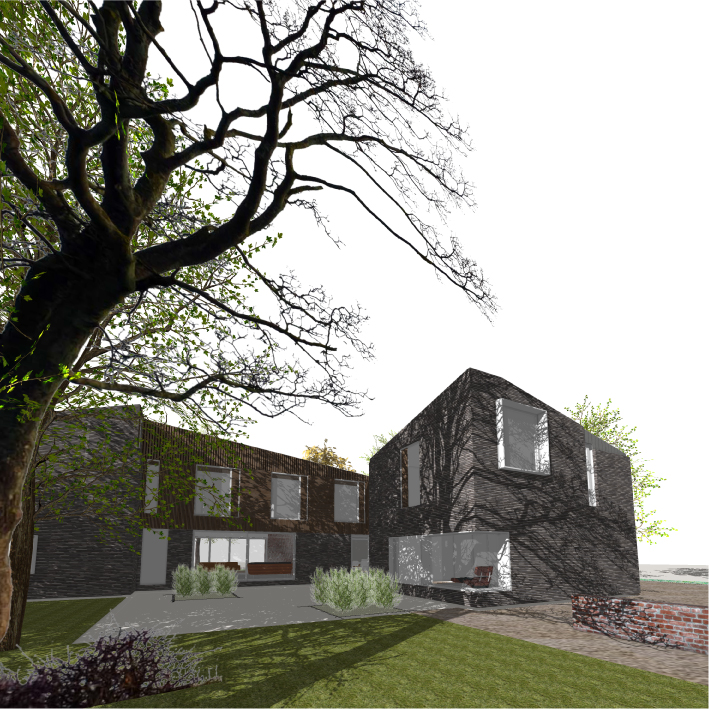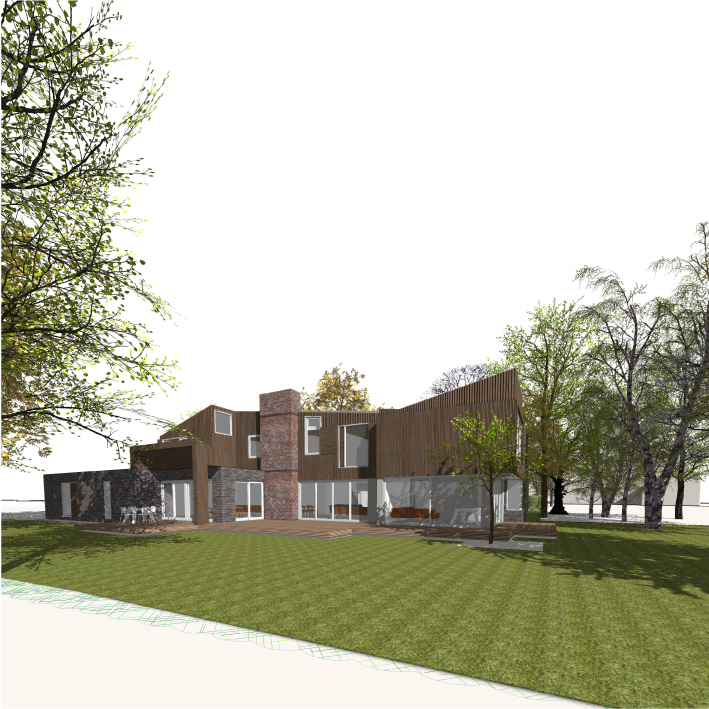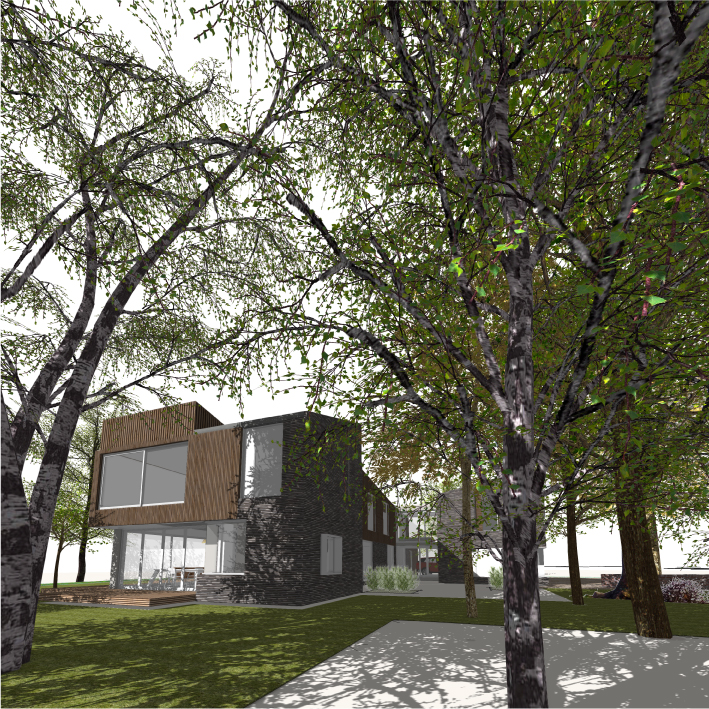 Project Team

Client: Dernford Ltd
Architects: studio24 architects
Planning Consultant: Carter Jonas
Transport Consultant: TPA
Landscape Architect: Liz Lake
Arboricultural Consultant: Oisin Kelly