SeeSaw
Fine art gallery and storage concept, Wandsworth

The design employs architectural concepts to enrich a relatively small gallery space and uses natural inertia to balance climatic conditions for fine art storage
A space within a space: The design enriches a relatively small gallery providing an intimate reception area for prospective purchasers alongside a carefully climatically controlled storage facility. The concept came about through a collaboration between studio 24 Architects, AS Workshop and students from the University of Westminster, in response to a brief for a storage facility and gallery prospect on behalf of Faggionato Fine Art based in the London borough of Westminster.


The design reflects the expectations and heightened perceptions of a prospective client or art collector to an exhibition space away from the main gallery. The design intent was to employ architectural concepts to make social interaction a dynamic experience, whilst utilising the least possible amount of building fabric. Clients pass through a sequential interconnected set of spaces via pivoting large doors that provide both security, privacy and separation between rooms. The calm aesthetic employs reflective and rich natural materials set against a white backdrop to emphasise space and light with the main focus of colour represented via the visible artwork. Upon leaving the interested works, clients pass into an aesthetically articulated meeting space, elevated by a triangular faceted wooden soffit, with washrooms, a reference library and refreshments situated adjacent.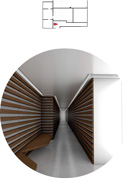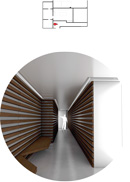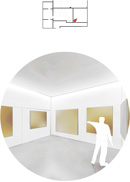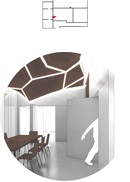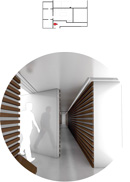 The environmental conditions required to maintain fine art are usually mechanically controlled, to keep temperature and humidity within tight limits. The consequence is that such schemes have a high carbon footprint, resulting both from the embedded energy in elaborate and expensive plant which requires regular maintenance and replacement, and high energy use to run the plant. Here the reliance on an active HVAC system has been removed through the application of materials with a low natural inertia to balance climatic conditions. The concept demonstrates the potential to achieve environmentally stable conditions within a low tech and low cost intervention that also enhances the visitor experience.