Siva House

Aura, Cambridge
'Siva House' is one of ten houses known as the 'Country Lane Houses' along the East edge of the Great Kneighton masterplan site Aura, recently developed by Countryside Properties. Similar in plan arrangement to new designs elsewhere in the city, functions of these houses are stacked with living spaces placed above ground floor level serviced rooms, surmounted by bedrooms to form compact energy efficient building forms.

Situated at the southern end of the site on a wide garden plot, Siva House will eventually sit alongside future landscape and public amenity space forming a green link to the evolving nature reserve and the biomedical campus at Addenbrooke's beyond.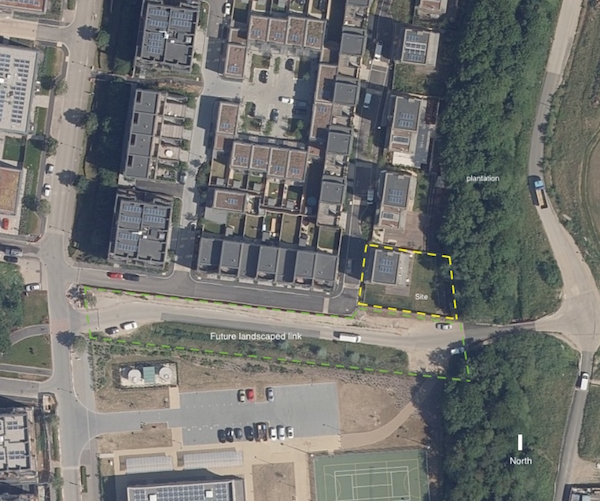 Design
The main single storey extension is designed to be constructed off-site from structural timber panels. These will form the main walls and roof that afford the low profile design. The building appearance consists of linear masonry clad walls, punctuated by large panels of glazing or timber. South facing walls step to release a simple eaves profile with a biodiverse wild flower planted roof above. Beyond the line of the existing rear elevation, the building plan steps inward to create a layered edge to the southern boundary. A masonry garden wall continues, stepping down along the boundary distinguishing the garden enclosure, whilst forming a backdrop to proposed embankment planting. internal north and east facing glass and timber elevations will complete the contemporary private garden.
The proposed extension will enhance ground floor living space connected to the existing kitchen using a split level arrangement providing a stronger outdoor relationship with internal spaces. An opening top lit central space serving a dining space and home office toward the front of the property, will allow natural ventilation in summer. The front of the property is visually separated from the road by a timber screen and planting concealing a small private courtyard.