studio24 architects are a niche creative studio in Cambridge, that specialise in the design of projects that often have challenging sites, competing space requirements or just need a different approach.

Applying contemporary architectural solutions and design processes, the studio draw on their technical building knowledge and design experience to benefit projects and realise designs. The studio offers it's clients a professional, friendly and open minded approach to design, founded on the RIBA's tried and tested project work stages.


---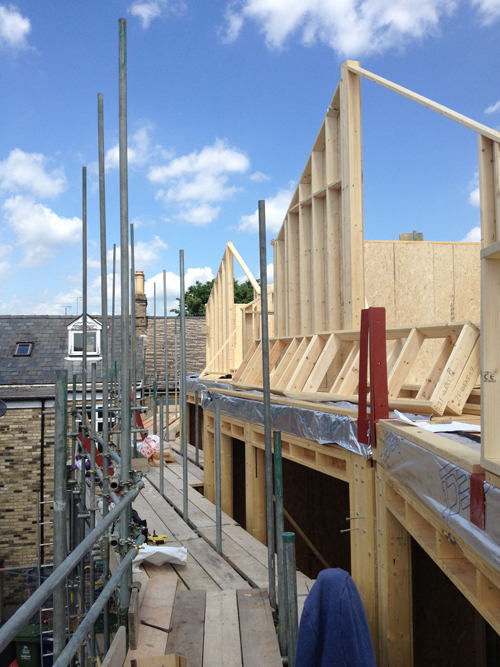 What we do
Over the last four years the studio has been working predominantly with local developers and domestic clients to prepare detailed designs to planning and technical designs for construction. The studio was recently awarded Winner of the 'Best Small Development of the Year - 2016' in the Cambridge Property Awards for Nelson Court - A low energy mixed use residential development on a constrained brownfield site with existing buildings, on the edge of a conservation area. In January 2017 the studio received planning permission for two new family homes at Swavesey and is currently working alongside contractors delivering two earlier planning approvals - A residential development 'One88' and a difficult mixed use urban corner site, 114 Mill Road, which aims to rejuvenate the site of an existing local retailer.

Specialist interests
▪
Mixed use buildings

▪
Bespoke houses and living environments

▪
Micro-communities and dwellings

▪
Brownfield and back land sites

▪
Reuse and building adaptation

▪
Low energy, low carbon building technologies
Quality
studio24 architects are committed to providing clients with an informative, stimulating and professional design service.

The studio's architects follow the Royal Institute of British Architects (RIBA) Code of Professional Conduct. Those responsible for running projects are registered with the ARB (Architects Registration Board). The studio is a Chartered Practice, giving clients the confidence and assurance that the quality of service they receive, commitment to design excellence and delivery, is professional and accountable. Projects undertaken by the studio are based upon the RIBA's established plan of work project stage methodology. We use the RIBA's standard forms of appointment most appropriate to the scale of project, where possible.

Please don't hesitate to contact us for more information. Alternatively contact the RIBA client advisory service for more information on engaging an architect. A guide can be found
Design services
▪
Site capacity studies

▪
Initial ideas for prospective sites

▪
Feasibility studies

▪
Concept design

▪
Planning Applications

▪
Design Review

▪
Design development

---
Explore more

Have a look at some of our sample projects and explore our work, to see whether our recent experience might assist your project. Why not check out our blog page to see what we're talking about!