29/03/19 10:00
We were delighted to be presented by Simon Smith (CFCI Chair - right) at this years Cambridge Design & Construction Award 2018, for our building design at 114 Mill Road, Cambridge on behalf of Redberry Inns (James Arnold - left). The awards, presented by Cambridge City Council and the Cambridge Forum for the Construction Industry recognises best in class contributions from the local building industry.
studio24 architects' founder, Mark Richards collected the award and thanked the design team, main contractor Cocksedge and their trades, whom together with studio24 delivered the challenging corner site development.
Photography - Julian Claxton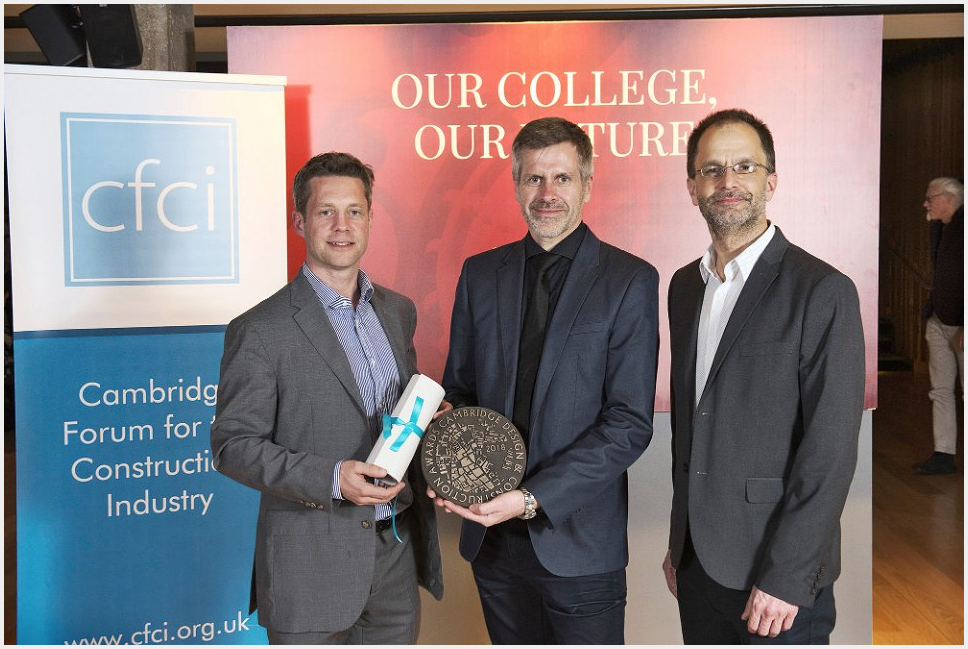 17/01/19 14:41
We were thrilled to receive news that two of our recent projects; 114 Mill Road and 188 Histon Road (Lawrence Hs), have been shortlisted within separate categories for this years Cambridge Design and Construction Awards, run by Cambridge City Council and Cambridge Forum for the Construction Industry. Awards are always a fantastic boost for everyone involved in a project, particularly when so many of the small businesses and people involved have contributed to a project in such a positive way (as so often they do) with the sole aim of doing a great job.

For us as architects and authors of the designs, it is hugely satisfying to reflect with clients on the decisions they made and the trust they give to us, to deliver a project from start to finish. It is only unfortunate that we cannot help a wider audience of public clients to design and deliver similar projects. However, we hope the design of the buildings will be enjoyed by the people that use and experience them in the future.

We'd like to thank all those that contributed, to both of these projects throughout the process and hope that they too, feel good about what we've created.

Best wishes for 2019!