studio24 architects have secured planning permission for a contemporary extension within Aura, a recent housing development by Countryside Properties within the southern fringe of Cambridge. The approval follows constructive engagement with planners to overcome restrictions on the site, while enhancing important biodiversity and protecting an existing plantation alongside Hobson's Brook that runs behind the project site. The design also had to overcome out of date flood data to enable the split level design.
The existing house, one of ten town houses known as the Country Lane Houses, forms the end house adjacent a future green link. The contemporary design for a single storey extension, creates a home office, formal dining and family room, positioned along the southern edge of the site to create a stronger connection to the garden.
Following recent instruction to proceed, we're keen to talk with quality builders that can work with us and structural engineers Peter Dann to realise our clients' project.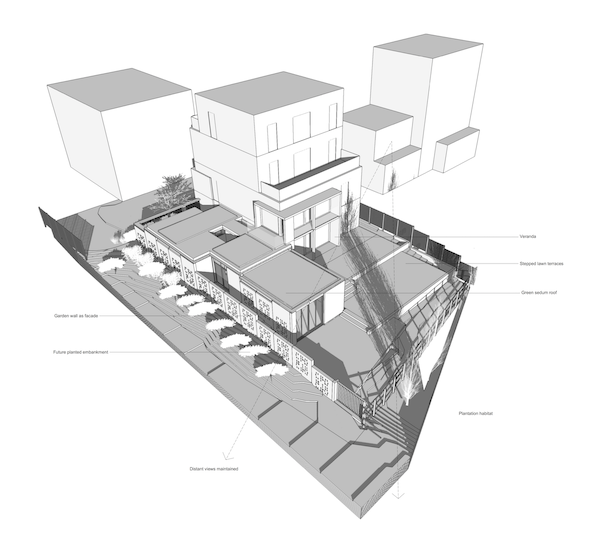 20/02/17 14:35 Filed in:
News
Our project 'Nelson Court' has been shortlisted for 'Best New (small) Building' in the Cambridge Design and Construction Awards! It's exciting times and very encouraging for our young practice to be recognised locally for the quality of work and approach. Shortlisted works will be presented on the 13th March at a special event organised by Cambridge City Council and the CFCI.
Welcome to the new website, which we hope you will like. We've produced it ourselves with a little help from Ben Chattell! The studio is approaching it's fifth year and has worked on some great projects. Some of those are now being constructed on site and we're anticipating new planning approvals in the next few weeks having developed some new ideas.
If you can't find an example of work or building type that you are thinking about or want to chat about an idea you have for a project, please drop us a line!